Crumpets are one of the quintessential British dishes that you should try if you are interested in English cuisine. At first sight, you might wonder why crumpets with their excessively spongy texture and bland flavor have such a prominent place on the British table. But once you have them, you will realize why, especially if they are homemade. Let me tell you this, homemade traditional English crumpets are everything! They are crispy, chewy, and delicately spongy. They also have a wonderful depth of yeasty flavor.
Is it your first time to hear about crumpets? Wondering what they are? These are English griddle cakes made from milk, water, flour, yeast, and some other ingredients. They are usually eaten for breakfast or even with afternoon tea. They are soft and they come with a spongy texture. They also have dozens of tiny holes, which are considered their most distinct feature. Whatever you spread them with or soak them in will certainly go through those tiny holes, making each bite more savory.
Most of the time, many people get confused with English muffins and crumpets. Although these two are both cooked on a griddle, they are still different. English muffins are more like bread and they are heavier. Crumpets, on the other hand, are lighter, not to mention their spongy texture.
Print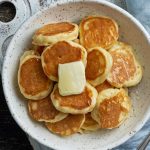 Traditional English Crumpets
---
Author:

Total Time:

2 hours 19 minutes

Yield:

20

to

24

crumpets

1

x
Description
Crumpets are the quintessential breakfast or afternoon tea treat. Serve them with lots of butter, and you'd definitely have an excellent breakfast meal or snack. With their delicate texture and holes on top, you can soak them up with jam or butter, making each bite an unforgettable one!
---
1 1/2 c. milk
3 1/2 c. all-purpose flour
2 tsp. granulated sugar
1 1/4 tsp. active dry yeast
1 1/2 c. lukewarm water
1 tsp. kosher salt
1 tsp. baking powder
Cooking spray (for the pan)
Butter and jam (for serving)
---
Instructions
Warm the milk in a saucepan, but make sure that it doesn't boil. Skim any milk off of the top.
In a large bowl, whisk together the warmed milk, sugar, yeast, and flour. Combine and then add half of the water. Beat into the batter.
Continue adding water until the batter reaches the consistency of thick cream.
Cover with plastic wrap and leave in a warm place until doubled in size and foaming. This can take 1 to 2 hours.
Whisk the salt and baking powder into the batter.
Heat a large non-stick skillet over medium heat. Make sure it is hot but not smoking.
Carefully grease the base of the pan and crumpet rings with cooking spray.
Place a ring on the heated pan. Pour in enough batter, about 1/4 cup.
Cook for about 5 minutes. You will see tiny holes on the surface and the crumpet should set around the edges.
Flip the crumpet over, in the ring, and cook for about 3 minutes more or until it is light brown or cooked through.
Repeat with the remaining batter. Be sure the grease the pan in between each batch. Adjust the temperature as needed.
Let the crumpets cool on a wire rack.
Serve with lots of butter and jam.
Notes
You can use crumpet rings measuring approximately 3 inches wide, 1/2 inch tall.
Prep Time:

15 minutes

Cook Time:

64 minutes
If you want to reheat your crumpets, simply place them in a toaster. Or, you can also put them directly on the center rack of the oven at 350 degrees Fahrenheit. Heat for about 5 minutes before serving.
You can also serve crumpets with fresh berries to make your breakfast meal more delicious and healthier.