Introduction
Welcome to the delicious world of omelets, where the humble egg is transformed into a gourmet breakfast delight! Today, we're featuring our Tomato Cheddar Omelet – a flavorful medley of fresh, juicy tomatoes and sharp, creamy cheddar cheese, all encased in a perfectly cooked omelet. This recipe is a staple in our kitchen and for a good reason – it's easy to make, nutritious, and irresistibly tasty!
Originating from the classic French cuisine, omelets are a fantastic canvas to showcase a variety of ingredients, and our choice of tomatoes and cheddar does just that. The tangy tomatoes cut through the richness of the cheddar, creating a balanced and satisfying dish. Whether you're making this for a leisurely weekend brunch or a quick weekday breakfast, this Tomato Cheddar Omelet is sure to brighten your day!
Nutritional Information
Each serving of Tomato Cheddar Omelet contains approximately:
Calories: 240
Fat: 18g
Carbohydrates: 4g
Protein: 15g
Tips and Variations
To make this Tomato Cheddar Omelet even more delightful, here are some tips and variations:
Use fresh, ripe tomatoes for the best flavor.
For a sharper taste, consider aged cheddar.
Add some fresh herbs like basil or chives for an extra burst of flavor.
If you're on a diet, you can use low-fat cheese or egg whites instead.

Frequently Asked Questions
Q: Can I make this omelet with other types of cheese? A: Absolutely! This recipe is quite versatile and can be customized to your liking. Feel free to experiment with different types of cheese. Mozzarella could add a nice stringiness, feta could provide a tangy contrast, and blue cheese could add a unique depth of flavor. Just remember, the goal is to create a balance of flavors that you enjoy.
Q: Can I add other ingredients to this omelet? A: Yes, you can! Omelets are incredibly flexible. If you have some leftover vegetables from last night's dinner, feel free to toss them in. Mushrooms, bell peppers, spinach, or even some crispy bacon could make excellent additions. However, remember to pre-cook any ingredients that require a longer cooking time than the omelet itself.
Q: How can I make my omelet fluffier? A: A great tip for a fluffier omelet is to add a small amount of milk or cream to the beaten eggs. The dairy helps to create a richer, more tender omelet. Also, be careful not to overcook your omelet. It's best removed from the heat when it's still slightly runny in the middle as it will continue to cook from the residual heat.
Q: Can this recipe be made in advance? A: Omelets are best served fresh off the stove. However, if you're pressed for time, you can prepare the ingredients (like grating the cheese and chopping the tomatoes) in advance. This way, when you're ready to cook, all you have to do is assemble and cook the omelet, which takes just a few minutes.
Get Going!
An omelet is a quick and easy meal that can be made with a variety of different ingredients. Omelets are a good source of protein and can be either savory or sweet. There are many different ways to make an omelet, but one of the most popular is the cheddar omelet.
There are several things that contribute to the deliciousness of this cheddar omelet. First, the cheddar cheese is melted into the eggs, providing a rich and flavorful base. Then, the omelet is cooked until it is fluffy and golden brown, giving it a perfect texture.   It's sharp and flavorful, and it really makes the omelet.
Print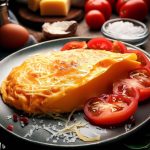 Cheddar Omelet Recipe
---
Author:

Total Time:

20

Yield:

4

1

x
Description
If you're looking for a nutritious and delicious breakfast option, look no further than the humble omelet! Packed with protein and healthy fats, omelets make for a satisfying meal that will keep you energized all morning long. Not only are omelets good for you, but they're also incredibly versatile.
---
4 eggs
1 tsp pepper and salt
1 onion chopped
2 cups cheddar
2 tbsp soy sauce
1 tomato chopped
---
Instructions
In pan sauté onion over medium heat and add soy sauce.
In a small bowl mix eggs, salt, tomato and pepper.
Pour egg mixture over onions.
Top covered with cheddar cheese and bake for 5 minutes.
Serve and enjoy
Notes
Adding vegetables to your omelet is a great way to get more vitamins and minerals. Spinach, mushrooms, and onions are all good choices.
Prep Time:

15

Cook Time:

5
Omelets are so delicious because they are packed with flavor. The eggs are cooked to perfection and the fillings are always fresh and tasty. Whether you like your omelets plain or with a variety of fillings, they always hit the spot.
Want to have a recipe published?  Simply go to our Contact Page, scroll down and fill out the submission form.  We look forward to reading about your favorite dishes!