Eggs benedict is the perfect and luxurious breakfast that you can enjoy on your day off. Made with perfectly poached eggs that have runny yolks is the perfect combination with the toasty muffin.
To take the dish to a next level, pour in delicious and creamy hollandaise sauce to give it a wholesome taste and texture.
If you think making an eggs benedict is a difficult task, think again! We bring to you a super easy recipe so that you can give yourself a luxury treatment.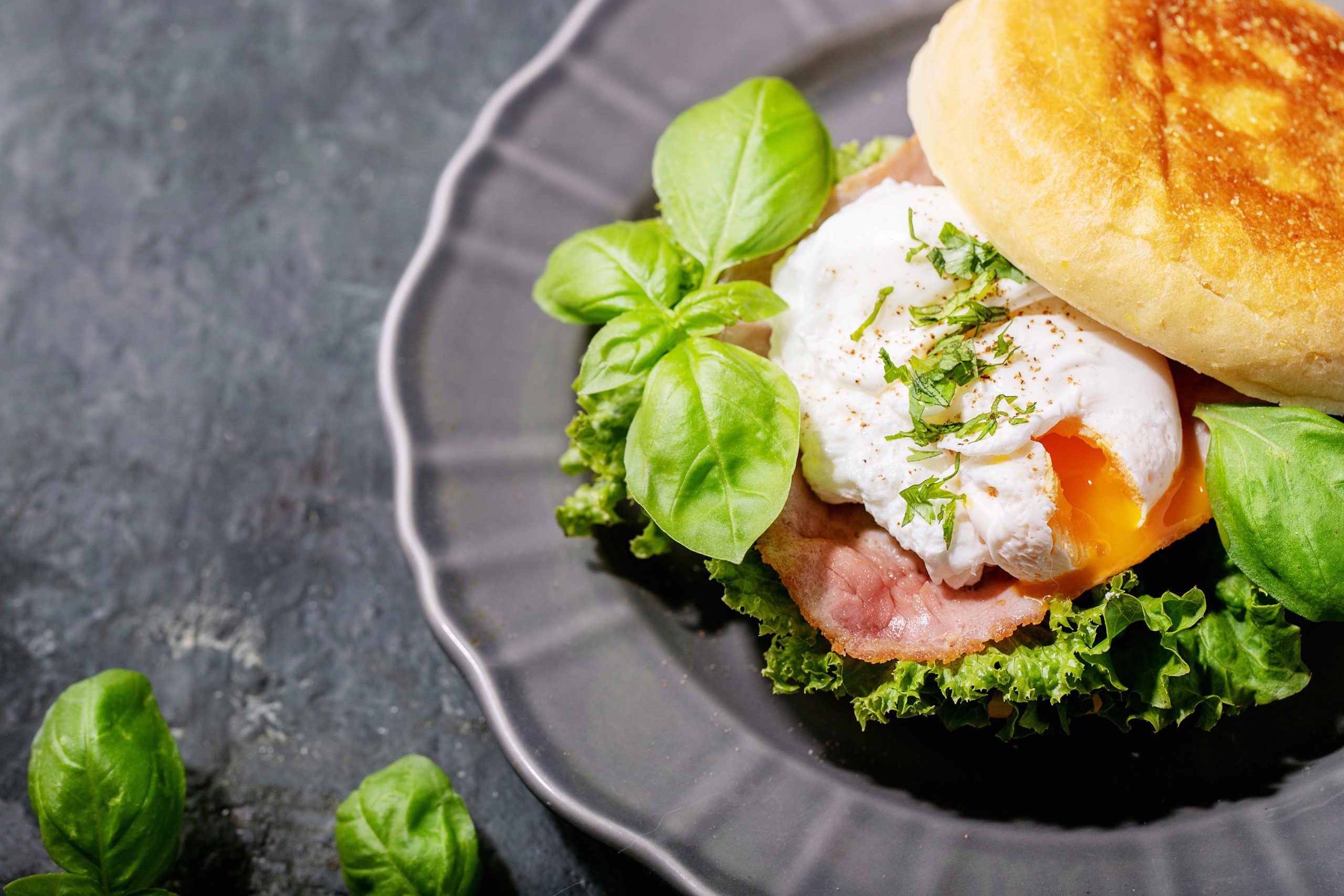 The star of this recipe is the hollandaise sauce. Although you might find several different recipes, this one is by far the best I have ever tried. It is silky, smooth, rich, and utterly delicious.
Print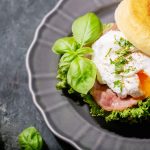 Eggs Benedict
---
Author:

Total Time:

7 mins

Yield:

4

1

x
Description
Enjoy the perfect eggs benedict that has a toasty muffin, and perfectly poached eggs topped with creamy sauce. Sprinkle chives to add freshness and color to the egg benedict.
---
For Hollandaise Sauce:
¼ cup heavy cream
2 egg yolks
¼ cup butter, melted and unsalted
¾ tsp lemon juice
½ tsp Dijon mustard
A pinch cayenne
A pinch salt
A pinch of black pepper

For Egg Benedict
4 eggs
2 English muffins, cut into half
½ tsp vinegar
4 bacon slices
---
Instructions
Fill a medium saucepan with a cup of water and place a glass bowl over it. Let the water simmer.
Add heavy cream, lemon juice, egg yolks, cayenne pepper, and Dijon mustard in the bowl and continue to whisk until the sauce thickens up. Reduce the heat and pour in melted butter slowly and stir constantly.
Remove from heat and season with salt and pepper.
Meanwhile, in a saucepan add water and vinegar and bring it to boil.
Crack eggs and drop them in boiling water. Let them cook until the egg whites turn white for 4 minutes.
Scope the eggs out and transfer them to a paper towel.
In a skillet, add bacon and cook them until they are ready.
Toast muffins in a toaster oven.
For serving:

Place a slice of bacon on the muffin and top it up with a poached egg. Pour hollandaise sauce. Garnish with chopped chives.
Notes
For preparing the hollandaise sauce, make sure the bowl base doesn't touch the water.
To check the thickness of the sauce, use a wooden spoon, and dip it in the sauce if it coats the back, it means it is ready.
Also, make sure the temperature of the sauce is 160-degree C.
Use a slotted spoon to take the poached eggs out of the water.
You can add tomato slices as well.
Prep Time:

2 mins

Cook Time:

5 mins
The sauce binds everything up and it is finger-licking good.
You can use tomato slices or Canadian bacon. The pairing of different flavors along with the freshness of chives as a garnish is heavenly.
Try this recipe at home and I bet you will fall in love with it!
FAQs
Q1: What is Eggs Benedict?
A: Eggs Benedict is a classic American breakfast or brunch dish that consists of two halves of an English muffin each topped with a poached egg, ham or bacon, and hollandaise sauce.
Q2: How do you make homemade Eggs Benedict?
A: Making homemade Eggs Benedict involves three key steps: poaching the eggs, making the hollandaise sauce, and assembling the dish. The detailed recipe can be found in our Eggs Benedict Recipe blog post.
Q3: What ingredients do I need for Eggs Benedict?
A: The main ingredients for Eggs Benedict are English muffins, eggs, ham or bacon, and the ingredients for hollandaise sauce, which include egg yolks, butter, lemon juice, and a dash of cayenne pepper.
Q4: How do I poach eggs for Eggs Benedict?
A: Poaching eggs involves simmering them in water. For Eggs Benedict, you want your poached eggs to have a runny yolk, which typically takes around four minutes. We have a step-by-step guide on how to poach eggs in our blog post.
Q5: How do I make hollandaise sauce for Eggs Benedict?
A: Hollandaise sauce is made by whisking together egg yolks, lemon juice, and melted butter over low heat until the sauce thickens. Our blog post includes a detailed guide on how to make hollandaise sauce.
Q6: Can I make Eggs Benedict ahead of time?
A: While Eggs Benedict is best served fresh, you can prepare some components ahead of time. You can poach the eggs and make the hollandaise sauce in advance and then reheat them gently when you're ready to assemble the dish.
Q7: What can I serve with Eggs Benedict?
A: Eggs Benedict is often served with a side of breakfast potatoes, fresh fruit, or a light salad. For drink pairings, consider fresh orange juice, coffee, or if you're feeling festive, a mimosa.
Q8: Can I substitute the ham in Eggs Benedict?
A: Yes, while traditional Eggs Benedict uses ham or bacon, you can substitute it with other proteins like smoked salmon or spinach for a vegetarian version. We have variations of Eggs Benedict recipes in our blog.
Q9: Why is my hollandaise sauce separating?
A: Hollandaise sauce can separate if the ingredients are not at the same temperature or if the heat is too high. You can find tips for troubleshooting hollandaise sauce in our Eggs Benedict Recipe blog post.
Q10: What is the history of Eggs Benedict?
A: Eggs Benedict has a fascinating history with several origin stories. One popular theory is that it was created in New York City in the late 19th century. Read more about the history of Eggs Benedict in our blog post.
Want to have a recipe published?  Simply go to our Contact Page, scroll down and fill out the submission form.  We look forward to reading about your favorite dishes!