If you're looking for a healthy, hearty breakfast option that's easy to make and delicious, you'll love egg muffins! Made with eggs, veggies, and cheese, these muffins are perfect for on-the-go mornings or as a satisfying snack. And they're freezer-friendly, so you can always have them on hand.
Breakfast – The Most Important Meal of the Day
Breakfast provides the body with necessary energy and nutrients to start the day off right. Consuming a balanced breakfast that includes carbohydrates, protein, and healthy fats can help to regulate blood sugar levels.  Additionally it can provide the brain with the energy it needs to function properly.  This can help to improve concentration and focus, which can be especially important for children and students.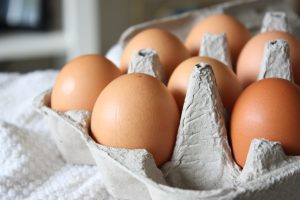 In addition to providing energy, breakfast aids in weight management. Studies show that people who eat breakfast are less likely to overeat later in the day, and less likely to be overweight or obese. This is likely because eating breakfast helps control hunger and cravings throughout the day. Skipping breakfast, on the other hand, can cause overeating later in the day and weight gain over time.
Additionally, breakfast also gives an opportunity to consume essential nutrients like vitamins and minerals vital for overall health. It also can help to establish healthy eating habits throughout the day and make it easier to achieve nutrient and calorie goals.
Made with just a few simple ingredients, egg muffins are perfect for busy mornings or on-the-go breakfasts. Plus, they're versatile so you can customize them to your liking. Add in your favorite veggies, meats, or cheeses for a hearty breakfast that will keep you satisfied until lunchtime. Take them to work or take them on a camping trip.  Enjoy with your Pomegranate Smoothie or your Dalgona Coffee.
Are You a Breakfast Person?  A Quick Survey
Enhance Those Muffins!
Egg muffins can be paired with a variety of different foods to create a balanced and satisfying meal. Some good food items you can add include:
Vegetables such as diced peppers, spinach, mushrooms, and onions are all great options to add to egg muffins for added flavor and nutrition.
Meats like diced cooked bacon, ham, sausage, or turkey can be add protein and flavor.
Shredded cheese, sour cream, or Greek yogurt can be added for extra flavor and a creamy texture.
Serve with whole-grain toast or English muffin for vital fiber and complex carbohydrates
Fresh fruits like berries, banana, apple or orange slices provide added sweetness and vitamins.
Salsa, hot sauce, or pesto can be added for enhanced flavor and a little bit of a kick.
Herbs and spices: herbs like basil, cilantro, or chives, or spices like chili powder or paprika can be added for flavor variety.
Enjoy!
Print
Breakfast Egg Muffins Recipe
---
Author:

Total Time:

35

Yield:

6

1

x
Description
Egg muffins are the perfect breakfast or snack to grab and go. They're portable and packed with protein, so they'll keep you full until your next meal.
---
4 eggs
2 tbsp milk
1 tsp chili powder
1 tbsp salt and pepper
1  red bell pepper sliced
1 tbsp cilantro
1 tbsp cooking oil
1 green bell pepper sliced
1 tbsp salsa
1 avocado sliced
---
Instructions
Pre heat oven to 300 degrees.
In a small mixing bowl whisk eggs, milk, chili powder, salt and pepper.
Spray muffin cups with cooking oil.
Evenly pour egg mixture into the cups and top with peppers.
Bake for 20 minutes.
Top with cilantro and salsa, side with avocado.
Ready to serve.
Notes
Consider adding some crumbled ham, beef or sausage for extra protein.
Egg muffins are one of the most versatile and convenient breakfast foods. You can make them ahead of time and they're perfect for on-the-go breakfasts – take them to work or take them on a camping trip. They're also packed with protein and make a great option if you're trying to cut down on carbs.
Prep Time:

15

Cook Time:

20
Want to have a recipe published?  Simply go to our Contact Page, scroll down and fill out the submission form.  We look forward to reading about your favorite dishes!