Mushrooms are a great source of nutrients, including selenium, copper, potassium, and vitamin D. They're also a good source of fiber and protein. Wild rice is a whole grain that's high in fiber and protein. It's also a good source of magnesium, phosphorus, and manganese. Together, mushrooms and wild rice make a delicious and nutritious meal.
Wild rice is a type of grain that is native to North America. It is not actually a type of rice, but rather a type of grass that grows in shallow water in wetlands and along the shores of lakes and rivers. Wild rice has a long, slender grain that is typically dark brown or black in color and has a nutty, earthy flavor. It is a popular food in many parts of the world, and is often used in salads, soups, and as a side dish. It is also a good source of protein, fiber, iron, magnesium, and minerals, and is considered to be a healthy and nutritious food.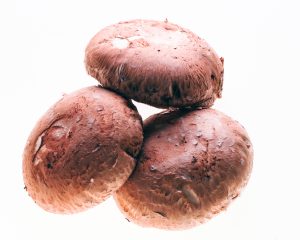 Does Wild Rice Need to be Soaked Before Cooking?
Soaking wild rice before cooking is not strictly necessary, but it can help in a few ways:
Reduced Cooking Time: Soaking wild rice can shorten the cooking time because the water begins to soften the grains.
Better Texture: Some people find that soaked wild rice has a more desirable, less chewy texture.
Digestibility: Soaking grains can help to break down some of the hard-to-digest components, potentially making them easier on the stomach.
If you choose to soak your wild rice, simply place it in a bowl, cover it with cold water, and let it sit for several hours or overnight. Then, drain the water and cook the rice as per your recipe.  However, if you're in a hurry or don't mind the grain's naturally chewy texture, feel free to skip the soaking step. Wild rice will still cook up beautifully with a unique, hearty texture and a nutty flavor.
Whether you choose to soak your wild rice or not, always rinse it under cold water before cooking to remove any dust or debris.
If you are looking to have something with your Maple Glazed Ham, then this is a great fit.  When you combine mushrooms and wild rice, you get a dish that is not only flavorful, but also nutritious. This dish makes an excellent side dish or main course. If you are looking for a new recipe to try, give mushrooms wild rice a try!
Print
Mushrooms Wild Rice Recipe
---
Author:

Total Time:

1.5 hours

Yield:

6

servings

1

x
Description
If you're looking for a delicious and healthy recipe, look no further than mushrooms wild rice. This dish is packed with nutrients and flavor, and is perfect for a quick and easy meal.
---
1 cup

wild rice

2 cups

water

1 tablespoon

olive oil

1

medium onion, diced

1

clove garlic, minced

8 ounces

mushrooms, sliced

1 cup

vegetable broth

1/4 cup

white wine

2 tablespoons

butter

2 tablespoons

all-purpose flour

1 cup

milk
Salt and pepper, to taste
---
Instructions
Rinse the wild rice under cold water and add it to a pot with the water. Bring to a boil, then reduce the heat to low and simmer for 45-60 minutes, or until the grains are tender and have a chewy texture.
In a separate pan, heat the olive oil over medium heat. Add the onion and garlic and cook until the onion is translucent, about 5 minutes.
Add the mushrooms to the pan and cook for an additional 5 minutes, or until the mushrooms are soft.
Add the vegetable broth and white wine to the pan and bring to a boil. Reduce the heat to low and simmer for 5-10 minutes, or until the liquid has reduced by half.
In a small saucepan, melt the butter over medium heat. Whisk in the flour and cook for 1-2 minutes, or until the mixture is bubbly.
Slowly whisk in the milk and cook until the sauce thickens, about 5 minutes.
Add the mushroom mixture to the wild rice and stir to combine. Season with salt and pepper, to taste.
Serve the mushroom wild rice hot, garnished with chopped parsley or chives, if desired.  Enjoy!
Notes
It's important to note that the cooking time for wild rice can vary depending on the specific type of wild rice and the age of the grains. It may take longer to cook older, drier grains.
Rinse the rice: Before cooking wild rice, it's a good idea to rinse it under cold water to remove any dirt or debris.
Use a large pot: Wild rice expands significantly during cooking, so it's important to use a large pot with plenty of room.
Use a ratio of 2:1 water to rice: For every cup of wild rice, use two cups of water. This will help to ensure that the rice cooks evenly and fully absorbs the water.
Avoid stirring: Wild rice does not need to be stirred during cooking, as this can cause the grains to break. Instead, simply let it cook until it is tender.
Drain any excess water: Once the wild rice is cooked, drain any excess water and serve immediately, or store in the refrigerator for up to a week.
Prep Time:

15 minutes

Cook Time:

1 hour 15 minutes
Nutritional Review
Wild rice is a nutritious and healthful food that provides a number of benefits when eaten as part of a balanced diet. Some of the potential benefits of wild rice include:
High in nutrients: Wild rice is a good source of nutrients, including protein, fiber, and a variety of minerals such as manganese, phosphorus, and zinc. It is also a good source of antioxidants, which may help to protect against oxidative stress and reduce the risk of certain diseases.
Low in calories: Wild rice is relatively low in calories, making it a good choice for people trying to lose weight or maintain a healthy weight.
May reduce the risk of certain diseases: Some research suggests that consuming wild rice may help to reduce the risk of certain diseases such as heart disease, diabetes, and cancer.
Good for digestion: The fiber in wild rice can help to support healthy digestion and regular bowel movements.
May improve brain function: Wild rice is a good source of thiamin, which is a type of B vitamin that is important for brain function.
It's important to note that more research is needed to fully understand the potential health benefits of wild rice. As with any food, it's important to consume wild rice as part of a balanced diet, rather than relying on any one food as a sole source of nutrition.
Want to have a recipe published?  Simply go to our Contact Page, scroll down and fill out the submission form.  We look forward to reading about your favorite dishes!