A lot of us are busy or in a rush in the morning, especially on weekdays. So although breakfast is said to be the most important meal of the day, many people resort to simply grabbing a donut or bread, and that's it. A couple of hours later, people who usually do this end up snacking on junk food. Talk about unhealthy eating habits!
Bottom line is, since breakfast is an important meal, you have to make sure that you are eating something healthy as you start your day. You have to remember too that the easiest is not always the healthiest. But no worries, there are many dishes out there that you can have for breakfast. You can even prepare some of them ahead of time so you won't have to rush.
Presenting….Zucchini Breakfast Casserole!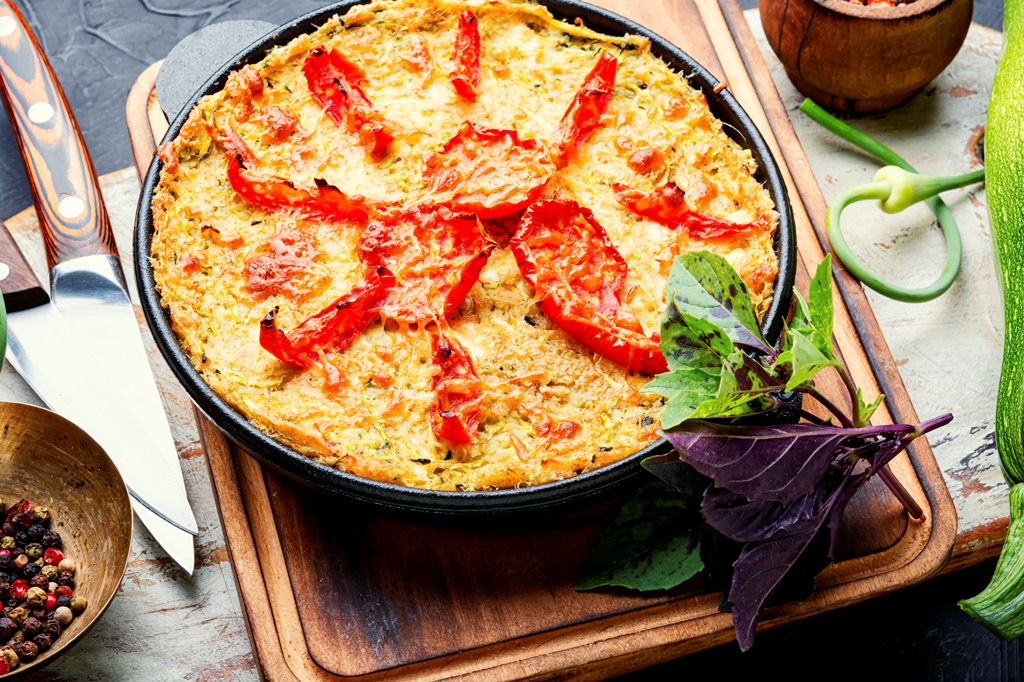 Made with eggs, ricotta cheese, plum tomatoes, bread, basil, and, of course, zucchinis, this dish is super easy to make. It is healthy and delicious as well. Plus, you can make it in advance to make things easier for you.
Print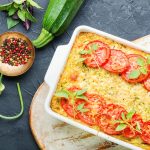 Zucchini Breakfast Casserole
---
Author:

Total Time:

1 hour 5 minutes

Yield:

6

to

8

servings

1

x
Description
This dish is perfect for breakfast. You can never underestimate the health benefits that come with zucchinis and the other vegetables involved in this recipe. Along with eggs, ricotta cheese, and bread, the combination is just so awesome!
---
6 to 8 large eggs
1 c. ricotta cheese
1 c. freshly grated Parmesan cheese
1/4 tsp. hot chili sauce
1 tsp. salt
1/4 tsp. freshly ground black pepper
3 c. grated zucchini (from 2 to 3 fresh zucchinis)
1 1/2 c. chopped plum tomatoes (from 4 to 5 fresh tomatoes)
1/2 c. sliced fresh basil
4 c. cubed day-old bread
Extra virgin olive oil
---
Instructions
Preheat oven to 350 degrees Fahrenheit and grease a 9X13-inch baking dish with olive oil. Set aside.
Beat the eggs in a large bowl, and then add the ricotta. Beat until smooth. Add the grated Parmesan cheese, hot chili sauce, salt, and pepper. Mix well.
Add the tomatoes, basil, and zucchini to the egg mixture.
Add the bread cubes.
Pour the egg vegetable mixture into the prepared pan, even it out, and then put it in the oven.
Bake for about 30 minutes or until the casserole has puffed up and browned slightly.
Remove from oven and let cook on a wire rack for about 10 minutes before cutting and serving.
Notes
For the hot chili sauce, it would be good to use Tabasco.
Rustic French or Italian bread works best for this recipe.
When chopping the tomatoes, make sure to squeeze out extra moisture. You can press them in a sieve. You can also wrap them in a paper towel before squeezing.
Before adding the bread cubes, moisten them with a little bit of water and then squeeze out extra moisture using a paper towel.
In case the casserole hasn't browned enough after half an hour in the oven, increase the heat to 425 degrees Fahrenheit and cook for 5 to 10 minutes more.
Prep Time:

25 minutes

Cook Time:

40 minutes
To make your Zucchini Breakfast Casserole more presentable, you can top it with sliced tomatoes.