Potatoes are a staple food in many households, and they are a versatile root vegetable. They are easy to grow, relatively cheap, and loaded with nutrients. They also contain lots of antioxidants. According to studies, potatoes can help improve blood sugar and digestive health.
This starchy type of vegetable is also incredibly filling. That is why if you have them for breakfast, you can be sure that you will feel full for a long time. The good thing is that potatoes are extremely versatile. There are many dishes that you can make using them. For breakfast, this German Potato Pancake recipe is an excellent option.
There are several variations of potato pancakes, especially in Eastern Europe. In German, this dish is also known as kartoffelpuffer. It is quite easy to make, no need to go to a German restaurant.
These golden, crispy fried pancakes are perfect served with applesauce or sour cream. Doing so will help cut the oiliness. Aside from breakfast, potato pancakes can be served as a snack, appetizer, or a side dish for roasted chicken or pork as well.
Print
German Potato Pancakes
---
Author:

Total Time:

25 minutes

Yield:

6

to

8

pancakes

1

x
Description
These German Potato Pancakes are so simple yet unbelievably tasty. They are delightfully crispy and flavorful. Serve them with applesauce and sour cream and you are in for a real treat!
---
1 pound russet potatoes
1/2 medium onion
3/4 tsp. kosher salt
Freshly ground pepper, to taste
Ground nutmeg, to taste
1 large egg
Vegetable oil (for frying)
Applesauce and sour cream (for serving)
Coarsely chopped parsley (for garnish)
---
Instructions
Using a clean dishcloth or cheesecloth, squeeze out as much of the liquid as you can from the grated potatoes into a bowl.
Let the liquid stand for a few minutes and then discard the top layer, leaving the potato starch at the bottom.
Add the potatoes back to the starch and then grate the onion over the potatoes.
Add the nutmeg, egg, salt, and pepper, and mix thoroughly.
In a large nonstick skillet, heat the oil over medium-high heat until it starts to shimmer.
Carefully drop about 1/2 cup of potato mixture into the hot oil. Flatten with the back of a spoon. Fry for about 4 to 5 minutes undisturbed on each side or until golden brown.
Drain on paper towels.
Garnish with parsley. Serve with applesauce and sour cream if desired.
Notes
When frying the potato pancakes, it is important that you don't flip them until after 4 to 5 minutes. You also need to drain them on paper towels so that you can get rid of the extra grease.
Prep Time:

15 minutes

Cook Time:

10 minutes
If you want to store your cooked potato pancakes and you want them to remain crispy, freeze them. Simply place the cooled pancakes on a baking sheet, on a single layer before putting them in the freezer. Now, once they are frozen, put them in an airtight container with parchment paper. To reheat, put them in the oven at 350 degrees Fahrenheit for about 10 to 15 minutes.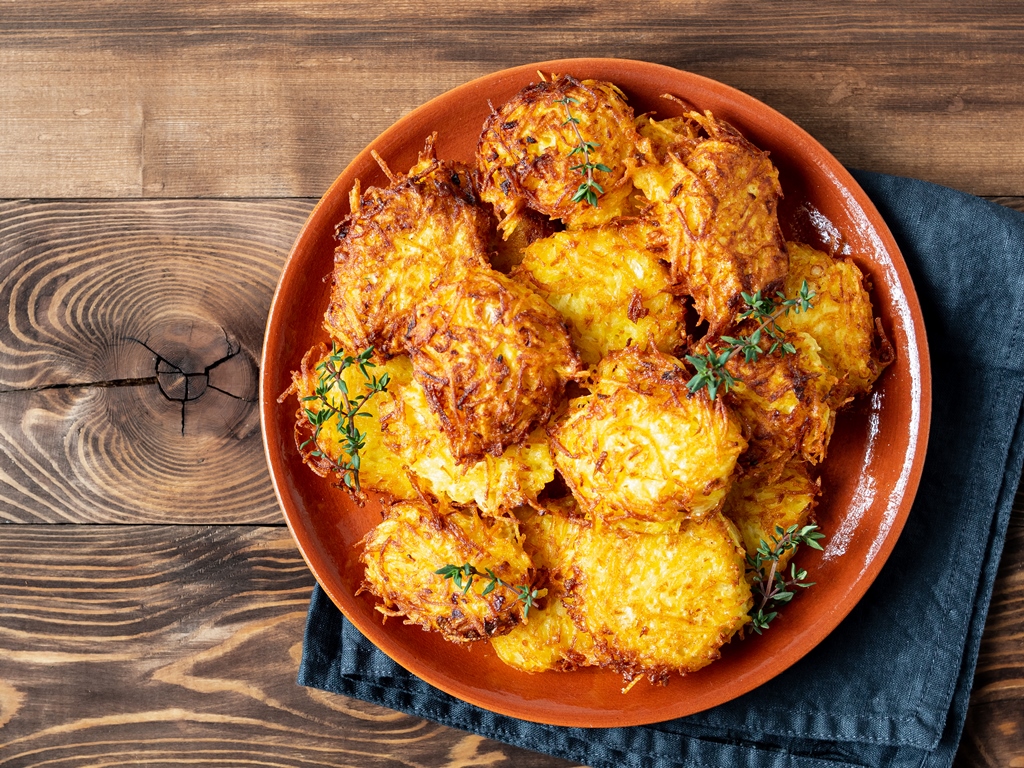 Another thing to remember is that, if you are making batches, do not pile them on top of each other to prevent them from getting soggy and losing their crispy exterior.