Pork, chicken, and beef are good. There's no question about that. But you know what's better and much healthier? Fish, especially fatty ones like salmon. In fact, salmon is regarded as one of the most nutritious food on the planet.
This type of fish is super rich in omega-3 fatty acids. It is also an excellent source of protein, vitamin B, potassium, selenium, and antioxidants. According to studies, eating salmon on a regular basis can help reduce the risk of heart disease. It can help in weight loss as well. Other health benefits include improving brain health and fighting inflammation. So with all that said, you can never go wrong with eating salmon even every day.
Salmon is very delicious, too, and it is quite versatile. It is not that hard to cook either. You can certainly come up with an excellent dinner meal in less than half an hour with salmon as the main ingredient. This would be a great option when you don't have much time to spend in the kitchen.
Have you had Salmon With Honey Garlic yet? If not, it's about time you try it. You will never regret making it! All you have to do is to sear the salmon, the right way, and add a few ingredients, and your dinner is good to go!
Print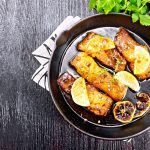 Salmon With Honey Garlic Glaze
---
Author:

Total Time:

20 minutes

Yield:

4

1

x
Description
Salmon is good on its own. What more if it is combined with ingredients like lemon, honey, and garlic? Oh boy, it's gonna be sooooo good! You should try this salmon with honey garlic glaze recipe.
---
4 6-oz salmon fillets (patted dry with a paper towel)
1/3 cup honey
1/4 cup soy sauce
2 tablespoon lemon juice
1 teaspoon red pepper flakes
3 tablespoons extra-virgin olive oil (divided)
kosher salt
freshly ground black pepper
3 cloves garlic (minced)
1 lemon (sliced into rounds)
---
Instructions
Whisk together honey, soy sauce, lemon juice, and red pepper flakes in a medium bowl.
Heat two tablespoons of oil in a large skillet over medium-high heat. Once it is hot enough, add salmon skin-side up and then season with salt and pepper. Cook for about 6 minutes or until golden. Flip over and add remaining olive oil.
Add garlic and cook for about a minute or until fragrant. Add the honey mixture and sliced lemons. Cook until sauce is reduced by about 1/3.
Baste salmon with the sauce.
Garnish with sliced lemon.
Serve.
Notes
When heating the oil, make sure that it is hot but not smoking.
You can serve this dish with steamed white rice.
Prep Time:

5 minutes

Cook Time:

15 minutes
Super easy, right? Making this dish won't even take you half an hour, but it is very healthy. Whether you are trying to lose weight or just don't have enough time to cook a more elaborate dinner meal, this can be your go-to recipe. Like I said earlier, you can never go wrong with salmon.
One thing that you need to know when cooking this dish is that you have to be extra careful when searing. Your pot should be hot and its bottom needs to be coated with oil. When you put the salmon in, you should hear a sizzle. And in order for you to get that delicious crust, it is important that you cook it undisturbed for a few minutes.