Pork chops are one of the most delicious and versatile cuts of meat. They can be grilled, baked, roasted, or even pan-fried. And, they pair well with a variety of sides, from mashed potatoes to roasted vegetables.But why are pork chops so darn delicious? There are a few reasons.
First, pork is a naturally juicy and flavorful meat. And when it's cooked properly, it's incredibly tender. Second, the fat content in pork chops helps to keep them moist and juicy. And lastly, the addition of a sweet glaze or sauce (like the honey glaze in this recipe) really takes them over the top. So if you're looking for a delicious, easy-to-make dinner option, look no further than pork chops!
The Benefits of Pork
Pork chops can be a nutritious addition to a healthy diet, as they contain a variety of essential nutrients. For example, pork chops are a good source of protein, which is important for building and repairing tissues in the body. They also contain important B vitamins, such as thiamin, riboflavin, and niacin, which play a vital role in energy production, metabolism, and neurological function.
Additionally, pork chops are a good source of minerals such as phosphorus, zinc, and selenium, which support bone health, immune function, and antioxidant defense.
However, it's important to keep in mind that the health benefits of pork chops can be compromised by cooking methods that involve high levels of fat or sodium, such as frying or heavy seasoning. Therefore, it's important to prepare pork chops in a way that preserves their nutritional value, such as grilling or baking, and to pair them with nutrient-rich side dishes like vegetables and whole grains.
Good Pairings with your Honey Pork Chops
Honey pork chops are a delicious and savory dish that pairs well with a variety of sides. Here are some good food pairings to consider:
Roasted vegetables: Roasting vegetables like Brussels sprouts, carrots, and sweet potatoes can bring out their natural sweetness and complement the honey glaze on the pork chops.
Grilled or roasted fruit: Grilled or roasted fruits like peaches, apples, or pears can add a sweet and juicy contrast to the savory pork chops.
Rice or quinoa: A side of rice or quinoa can absorb the flavors of the honey glaze and provide a hearty base for the meal.
Salad: A fresh and light salad with mixed greens, cucumber, and cherry tomatoes can provide a refreshing contrast to the rich and savory flavors of the pork chops.
Mashed potatoes: Creamy mashed potatoes can provide a comforting and hearty side dish that complements the savory flavors of the pork chops.
Steamed or sautéed vegetables: Steamed or sautéed vegetables such as broccoli, asparagus, or green beans can provide a healthy and nutritious side dish that complements the sweetness of the honey glaze.
Overall, the key is to balance the flavors and textures of the honey glazed pork chops with sides that are complementary and bring out the best in the dish.
Print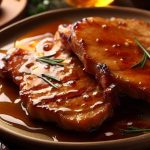 Honey Pork Chops Recipe
---
Author:

Total Time:

30

Yield:

4

1

x
Description
Pork chops are a delicious and easy-to-prepare meal. When choosing pork chops, look for those that are leaner and have less fat.
---
1 cup fresh tart cherries thawed
3 tbsp honey
1 tbsp salt and pepper
½ cup water
1 cup sweet onion chopped
1 tbsp corn starch
4 boneless pork chops
3 tbsp olive oil
---
Instructions
In your pan or cooker, combine salt, pepper, honey, cherries, onion, olive oil top with pork chops
Close cooker lid and cook for 15 minutes.
Remove pork chops to a serving dish keep warm
In a small bowl mix corn starch and water until smooth stir into pressure cooker.
Simmer, stirring constantly, until thickened, 2 to 3 minutes.
Pour starch onto the pork chops.
Ready to serve.
Notes
Trim any excess fat before cooking.
Pork chops should be cooked to an internal temperature of 145°F (63°C) followed by a three-minute rest time
A 3-ounce serving of pork chop contains about 27 grams of protein, which is about half of the recommended daily intake for adults. Pork chops are also a good source of other nutrients, including thiamin, niacin, vitamin B6, phosphorus, and zinc.
Prep Time:

15

Cook Time:

15
Pork chops can be served with a variety of sides, such as roasted potatoes, steamed vegetables, or a salad. Pork chops make an excellent weeknight meal or can be served for a more formal occasion.
Want to have a recipe published?  Simply go to our Contact Page, scroll down and fill out the submission form.  We look forward to reading about your favorite dishes!