There are many reasons why people like brownies. For some, it may be the rich chocolate flavor, while others may enjoy the dense and fudgy texture. Others may like brownies because they are easy to make and can be enjoyed as a quick snack or dessert. Whatever the reason, there is no doubt that brownies are a popular treat! If you're looking for a delicious brownie recipe, be sure to try this Heavenly Brownies Recipe.
There are plenty of reasons to try this delicious brownie recipe. For one, they're made with high-quality ingredients like  chocolate and brownie mix. Plus, they're super easy to make – you can have them in the oven in just a few minutes. But the best reason to try these brownies is because they're absolutely divine. They're rich and fudgy, with a perfect balance of sweetness. And they have a deep, complex flavor that will keep you coming back for more.  So go ahead and give them a try – you won't be disappointed!
What is the Secret To Crispy Brownies?
There are several ways to achieve crispy brownies:
Use More Sugar: Sugar caramelizes during baking, resulting in a crispy top layer. Using more sugar in your brownie batter can lead to a crispier exterior.
Use a Shallow Pan: A shallow pan will spread the brownie mix out more, exposing more of it directly to the heat. This can result in a crispier texture.
Bake Longer: Baking the brownies for a longer period can help them develop a crispy top layer. However, be careful not to overbake them, or they may become too dry.
Cool in the Pan: After baking, let the brownies cool in the pan before cutting them. This can help the edges to become crispy.
Use a Higher Temperature: Baking at a higher temperature can lead to a crispier exterior. However, this can also lead to the brownies cooking faster, so you'll need to adjust the baking time to avoid overcooking them.
Use More Fat: Fat can help to create a crispy texture when it solidifies as the brownies cool. Adding more fat (like butter or oil) to your brownie batter can lead to crispier brownies.
Add a Topping: Adding a topping like a crumble or a streusel can provide additional crispiness.
Refrigerate Before Cutting: Allowing the brownies to cool and then refrigerating them before cutting can help to firm up the edges and create a crispier texture.
Remember, everyone's oven and preferences are different, so you might need to experiment with these techniques to find the one that gives you the perfect crispy brownies.
What Makes a Brownie Chewy vs. Cakey?
The texture of brownies, whether they're chewy, fudgy, or cakey, is primarily determined by the balance of fat (butter and chocolate) to flour, the amount of sugar, and the presence or absence of leavening agents like baking powder.
Here's a basic guide to the differences:
Chewy Brownies: These have a good balance of fat and flour. The sugar is often higher in chewy brownies than in cakey ones. This higher sugar content interferes with the formation of gluten in the batter, leading to a more tender, chewy texture. A higher egg content can also make brownies chewier, as the proteins in the eggs set during baking provide a fudgy texture.
Fudgy Brownies: These have a high fat-to-flour ratio. That means more butter and chocolate and less flour. They're typically dense and moist with a rich chocolate flavor. The texture is much like fudge, hence the name. Sugar also plays a role here, with a higher amount leading to a more fudgy texture.
Cakey Brownies: These have more flour and often a bit of baking powder to give them lift. They have a lower fat-to-flour ratio, which means they have less fat (butter or oil) and more flour than their fudgy and chewy counterparts. Cakey brownies are lighter and more tender than the other types, with a texture that's more like a chocolate cake.
In general, if you want to modify a brownie recipe to make it chewier or cakier, consider adjusting the amounts of fat, flour, and sugar, and the use of leavening agents.
Print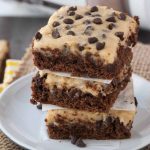 Heavenly Brownies Recipe
---
Author:

Total Time:

45

Yield:

4

1

x
Description
Brownies are the perfect combination of rich chocolate flavor and a soft, cake-like texture.
---
1 small pack chocolate brownie mix
1/2 cup of chocolate chips
½ cup vanilla pudding
½  cup milk
1 cup whipped cream
½  cup peanut butter
---
Instructions
Make brownie according to brownie mix package direction, let it cool.
In a mixing bowl whisk milk and pudding for 3 minutes, add peanut butter and vanilla and mix well
Place cooled brownie in a bowl pour pudding mixture on the top.
Covered with whipped cream and garnish with peanut butter and chocolate chips.
Refrigerate for 1 hour.
Ready to serve.
Notes
Ensure the peanut butter is a bit warm so it will be easier to mix.
For an extra chocolatey experience, use chocolate pudding instead of vanilla.
Line the baking pan with parchment paper for easy removal and cleaning.
Avoid over-mixing the batter by using a spoon instead of a mixer – you have way more control.
Don't over bake, they are best a little gooey
Prep Time:

15

Cook Time:

30
Is it Better to Use Butter or Oil for Brownies?
The choice between using butter or oil in brownies largely depends on the flavor and texture you prefer. Here's how each option affects your brownies:
Butter: Butter is often preferred for its rich flavor. When melted and mixed into the batter, it can give brownies a dense, moist texture. The milk solids in the butter can also aid in creating a nice, crackly top. If flavor is a priority for you, butter is the way to go.
Oil: Oil tends to make brownies more moist than butter. It coats the flour proteins, minimizing the formation of gluten, which can make baked goods more tender. If you're looking for a very moist, fudgy brownie, oil might be the better choice.
In general, if you're baking brownies and want the best of both worlds, you might consider using a combination of butter (for flavor) and oil (for texture). However, it's worth noting that any changes to a recipe can affect the final outcome, so if you're using a new recipe, it's often best to follow it exactly before starting to make adjustments.
Brought to you by ThePollsters.com
Whether you like them plain or with frosting, nuts or no nuts, one thing is for sure – brownies are one of the most irresistible desserts around. So next time you're in the mood for something sweet, give these heavenly brownies a try!
We suggest you change the recipe above to maximum scale and make as many as you can.  People will like you more for it!
Enjoy!
Want to have a recipe published?  Simply go to our Contact Page, scroll down and fill out the submission form.  We look forward to reading about your favorite dishes!