A Flavorful, Colorful Option for Outdoor Grilling
When it comes to summer grilling, meat options are often the first thing that comes to mind. However, for those who are vegetarian or simply looking for a healthy and flavorful alternative, grilled veggie skewers are the perfect option. With a combination of colorful vegetables, a touch of seasoning, and the smoky flavor from the grill, these skewers are sure to be a hit at your next outdoor gathering.
What Makes Them Great
Grilled veggie skewers are not only delicious but also come with numerous health benefits. Vegetables are loaded with essential vitamins and minerals that our bodies need to stay healthy. Additionally, grilling vegetables helps to retain their nutrients and flavor, making them a great choice for a healthy and satisfying meal.
Interesting Facts About the Food
Did you know that grilling vegetables can help to reduce their water content, making them more flavorful and crispy? Also, skewering the veggies makes them easier to handle on the grill and adds a fun and unique element to your dish.
How Healthy Are Grilled Veggie Skewers
Veggies are naturally low in calories, making them an excellent option for those looking to maintain a healthy diet. Additionally, grilling vegetables helps to retain their nutritional value while giving them a smoky and flavorful taste.
Possible Ingredient Substitutions
While this recipe calls for a specific combination of vegetables, feel free to swap in your favorites. Some great options include mushrooms, zucchini, bell peppers, and onions. You can also experiment with different marinades and seasoning blends to find the perfect flavor combination for your taste buds.
Great Side Dishes
Grilled Veggie Skewers make a delicious and healthy main course, and pairing them with complementary side dishes can enhance the overall meal experience. Here are some possible side dishes that would go well with Grilled Veggie Skewers:
1. Quinoa Salad:
Prepare a refreshing quinoa salad with chopped vegetables like cucumber, cherry tomatoes, bell peppers, and fresh herbs like parsley or cilantro. Toss with a light lemon vinaigrette for added flavor.
2. Couscous with Roasted Vegetables:
Roast a medley of vegetables such as zucchini, eggplant, cherry tomatoes, and red onions. Serve the roasted veggies over fluffy couscous seasoned with herbs like thyme or basil.

3. Garlic Roasted Potatoes:
Slice baby potatoes into bite-sized pieces, toss them with olive oil, minced garlic, and your choice of herbs like rosemary or thyme. Roast them in the oven until crispy and golden brown.
4. Mediterranean Chickpea Salad:
Combine canned chickpeas with diced cucumbers, cherry tomatoes, red onions, Kalamata olives, and crumbled feta cheese. Dress the salad with a lemon and olive oil dressing for a vibrant and flavorful side dish.
5. Grilled Corn on the Cob:
Take advantage of the grill by preparing some corn on the cob. Brush the corn with melted butter, sprinkle with salt and pepper, and grill until tender and slightly charred.
6. Caprese Salad:
Arrange slices of fresh mozzarella, ripe tomatoes, and basil leaves on a platter. Drizzle with balsamic glaze or a mixture of olive oil and balsamic vinegar. This classic Italian salad is light, refreshing, and pairs well with grilled veggies.
7. Mixed Green Salad:
Create a simple mixed green salad using your favorite lettuce or salad greens. Add cherry tomatoes, sliced cucumbers, carrots, and a tangy dressing such as balsamic vinaigrette or lemon tahini dressing.
Cut sweet potatoes into thin strips, toss them with olive oil, salt, and spices like paprika or cumin. Bake them in the oven until crispy, and serve as a tasty alternative to regular fries.
Remember, the side dishes can be customized based on your preferences and the flavor profile of the grilled veggies. These suggestions should provide a good starting point for creating a well-rounded meal.
Print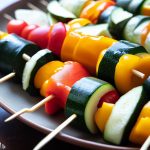 Grilled Veggie Skewers Recipe
---
Author:

Total Time:

30 minutes

Yield:

4

servings

1

x
Description
Enjoy a healthy and flavorful option for your next outdoor grilling event with these delicious grilled veggie skewers. Packed with essential vitamins and minerals, these colorful skewers are sure to be a crowd-pleaser.
---
2 bell peppers, cut into chunks
1 large red onion, cut into chunks
2 zucchinis, sliced into rounds
2 cups of cherry tomatoes
1/4 cup of olive oil
2 cloves of garlic, minced
2 teaspoons of dried oregano
Salt and pepper to taste
---
Instructions
Preheat your grill to medium-high heat.
Thread the vegetables onto skewers, alternating between each vegetable.
In a small bowl, whisk together the olive oil, garlic, oregano, salt, and pepper.
Brush the skewers with the oil mixture, making sure to coat them evenly.
Place the skewers on the grill and cook for 8-10 minutes, flipping halfway through.
Once the vegetables are tender and lightly charred, remove them from the grill and serve immediately.
Notes
Properly Prepare and Marinate the Vegetables: Cut the vegetables into evenly sized pieces to ensure even cooking. Soaking the wooden skewers in water for about 30 minutes before grilling will help prevent them from burning. Additionally, marinating the vegetables in a flavorful marinade for at least 30 minutes (or even overnight) will enhance their taste and tenderness.
Preheat the Grill and Oil the Grates: Preheat your grill to medium-high heat before adding the skewers. This will help prevent the vegetables from sticking to the grates. Once the grill is hot, lightly brush the grates with oil using a heat-resistant brush or a piece of folded paper towel soaked in oil. This will further reduce the chances of the skewers sticking and make them easier to turn.
Pay Attention to Cooking Time and Rotation: Grill the skewers over direct heat, turning them occasionally to ensure that all sides cook evenly. The cooking time will depend on the size and type of vegetables, but generally, it takes around 8-12 minutes. Keep a close eye on the skewers to prevent them from overcooking or charring. Remove the skewers from the grill when the vegetables are tender and have achieved a slight char or grill marks.
By following these tips, you'll be on your way to achieving perfectly cooked and flavorful grilled veggie skewers that are sure to impress your guests.
Prep Time:

20 minutes

Cook Time:

10 minutes
Want to have a recipe published?  Simply go to our Contact Page, scroll down and fill out the submission form.  We look forward to reading about your favorite dishes!