Looking for a new and exciting recipe for the weekend afternoon snacks for your family or guests? Of course, there's no other easier to prepare snacks than sandwiches, but for sure you won't like what you will be seeing on your children's faces. Maybe, they won't even touch them. To avoid ending up eating most of what you prepared and getting stouter, try chicken quesadillas.
A crispy snack of tortillas with a delicious and nutritious filling can truly turn a lazy weekend afternoon into an eventful one. It will surely delight everyone partaking with this easy-to-prepare but savory snack.
Not all delicious foods are unhealthy. This recipe uses chicken breast to make up for the juiciness and meatiness of this snack while keeping your cholesterol in check. And with that crunch when you take a bite, chicken quesadillas can be the spark plug on a lazy Saturday afternoon.
Print
Chicken Quesadillas
---
Author:

Total Time:

55 minutes

Yield:

2

0

1

x
Description
Creamy, meaty, juicy, crispy, and crunchy. That is all chicken quesadillas are. If you love cheesy and creamy snacks, chicken quesadillas are all about that. Cheddar and Monterrey jack make a special blend that you cannot find in one kind of cheese. The crisp and fresh taste of green and red pepper together with their distinct aroma is something to behold.
---
1 lb. of chicken breast, skinned, deboned, and diced
1 pack of fajita seasoning, 1.27 oz.
1 tbs. of vegetable oil
2 pcs. of green bell peppers, chopped
2 pcs. of red peppers, chopped
1 pc. of onion, chopped
10 pcs. of flour tortillas, 10 inch
1 pack of shredded Cheddar cheese, 8 oz.
1 pack of shredded Monterey Jack cheese, 8 oz.
1 tbs. of bacon bits
---
Instructions
Preheat the broiler and grease a baking sheet.
Spread the chicken with fajita seasoning on the baking sheet and cook under the broiler for approximately 5 minutes or when the chicken pieces are no longer pink.
Preheat the oven to 350 degrees Fahrenheit.
In a large saucepan, heat oil and toss in the onion, green pepper, red pepper, and chicken. Stir until the onion and peppers are softened.
On the half portion of each tortilla, place chicken and vegetable mixture.
Sprinkle with cheddar cheese, bacon bits, and Monterrey Jack cheese. Fold the tortillas and arrange them on the baking sheet.
Bake until the cheeses have melted. Cool a bit and the chicken quesadillas are ready for serving.
Notes
Sprinkling a few shredded cheese on the tortillas before placing the chicken and vegetable mixture can hold the filling even more. You can also add yellow bell pepper to make your chicken quesadillas more colorful.
Chopped fresh cilantro or jalapeno can be added as toppings if you desire.
Prep Time:

30 minutes

Cook Time:

25 minutes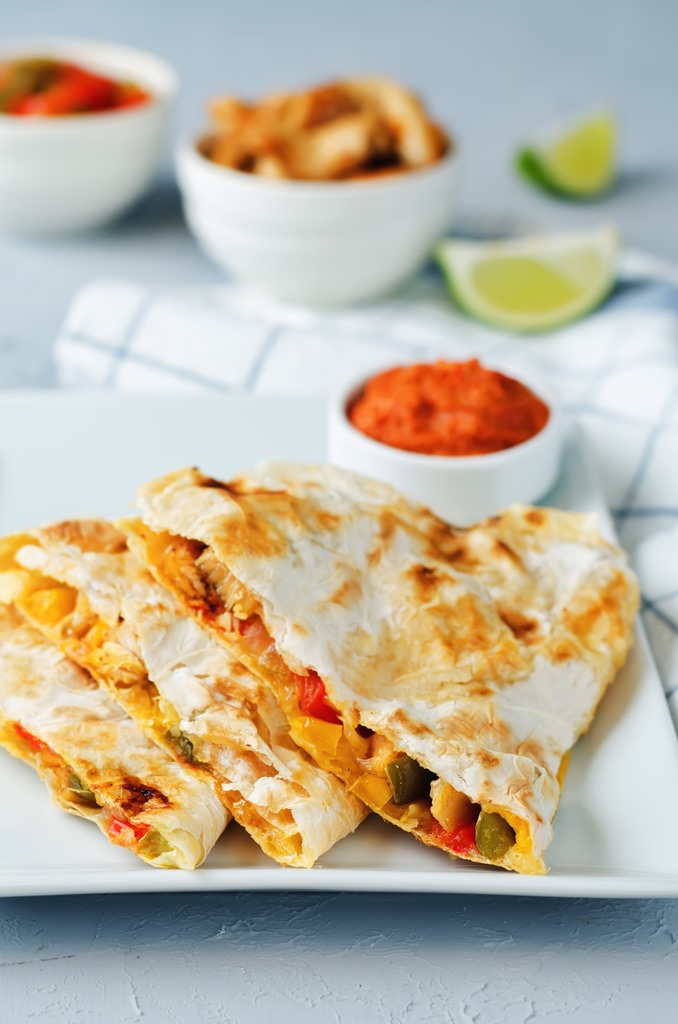 Chicken quesadillas can go with most beverages. So, if you are planning to hold a party, serving chicken quesadillas is an excellent option. It is economical and easy-to-prepare. All the ingredients are also readily available. And you may not worry that they may not be as desirable when they turn cold and your guest has not yet arrived. You can easily warm them and there will be no change in the quality whatsoever. It will still be the same creamy, juicy, crispy, meaty, and crunchy treat.