Is it cold outside, and you are wondering what to make for dinner? Do you like bean-based chili recipes or perhaps tortilla soup? If you do, then you will surely love this hearty Pinto Posole recipe.
To some of you who might have had posole before, you probably had pork in it. But for our dinner recipe today, we traded pinto beans for the pork. With that said, this is excellent for vegans. Hearty, spicy, and savory!
To cut down the cooking time, I highly recommend using canned beans. No worries, it is as good. In fact, you can enjoy leftovers more the following day. You can also freeze this dish.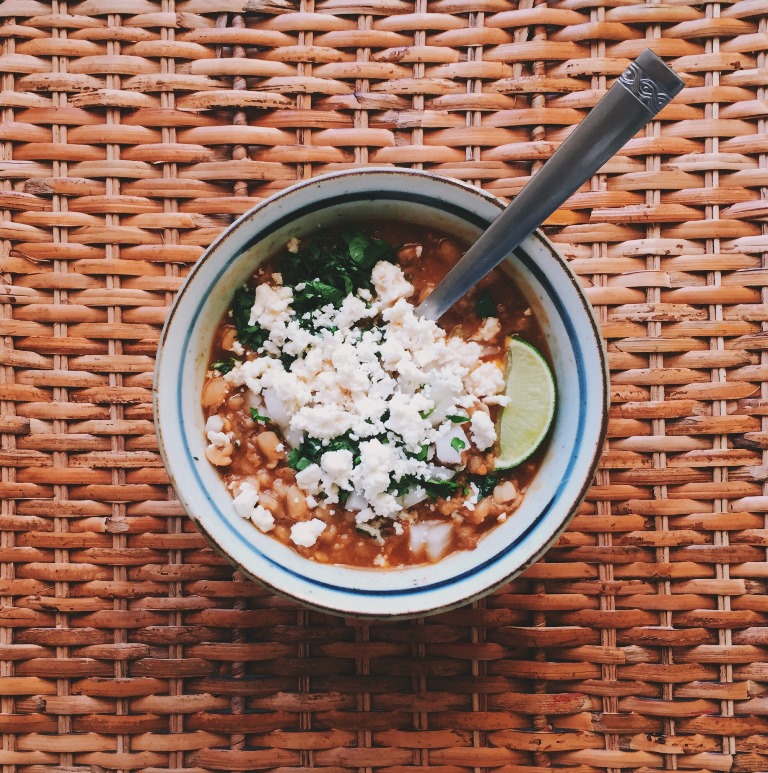 What Is Posole?
In a nutshell, this right here is a Mexican stew that is traditionally made with shredded pork, hominy, cumin, and dried chilis. It is best served during the colder parts of the year, especially winter time.
Like I said earlier, instead of pork, we are going to use pinto beans, which are much healthier.
Print
Pinto Posole
---
Author:

Total Time:

55 minutes

Yield:

4

1

x
Description
Nothing beats homemade Pinto Posole, especially when it's cold outside. Be it freshly made or leftover from last night, it is good either way. It is healthy, spicy, and savory!
---
2 to 4 guajillo chili peppers
2 tbsp. extra-virgin olive oil
1 large white onion (finely chopped)
4 cloves garlic (minced)
1 tbsp. ground cumin
1/2 c. tomato paste
1 bay leaf
3 cans (15 ounces each) of pinto beans (rinsed and drained)
1 can (15 ounces) hominy (rinsed and drained)
4 cups vegetable broth
2 cups of water
1/2 tsp. fine sea salt, to taste
1/4 cup cilantro (chopped, divided)
1 lime (halved)
Garnishes: (optional)
Sliced avocado, chopped radish, onion, jalapeno, or shredded green cabbage
---
Instructions
Remove the stem ends of the chilis and get rid of as many seeds as possible. Rinse and pat them dry.
Heat an empty soup pot over medium heat. Toast the chilis in it while pressing them flat using a spatula for a few seconds until fragrant. Flip them over and do the same. Set aside the toasted chilis.
Using the same pot, heat the olive oil until shimmering. Add the onion and a pinch of salt and cook while stirring constantly for about 5 minutes or until the onions are tender and translucent.
Add the cumin and garlic. Stir and cook for about 1 minute or until fragrant.
Add the tomato paste and cook for about 1 minute as well.
Add the toasted chilis, hominy, beans, bay leaf, vegetable broth, and water to the same pot. Add about 1/2 tsp. of salt and increase the heat to medium-high.
Bring the mixture to a simmer, reduce the heat, and cook for about 25 minutes.
Discard the chili peppers and bay leaf. Add the cilantro and lime juice.
Divide the soup into bowls and garnish with lime wedges.
Notes
Add more salt and lime juice if needed.
Prep Time:

22 minutes

Cook Time:

33 minutes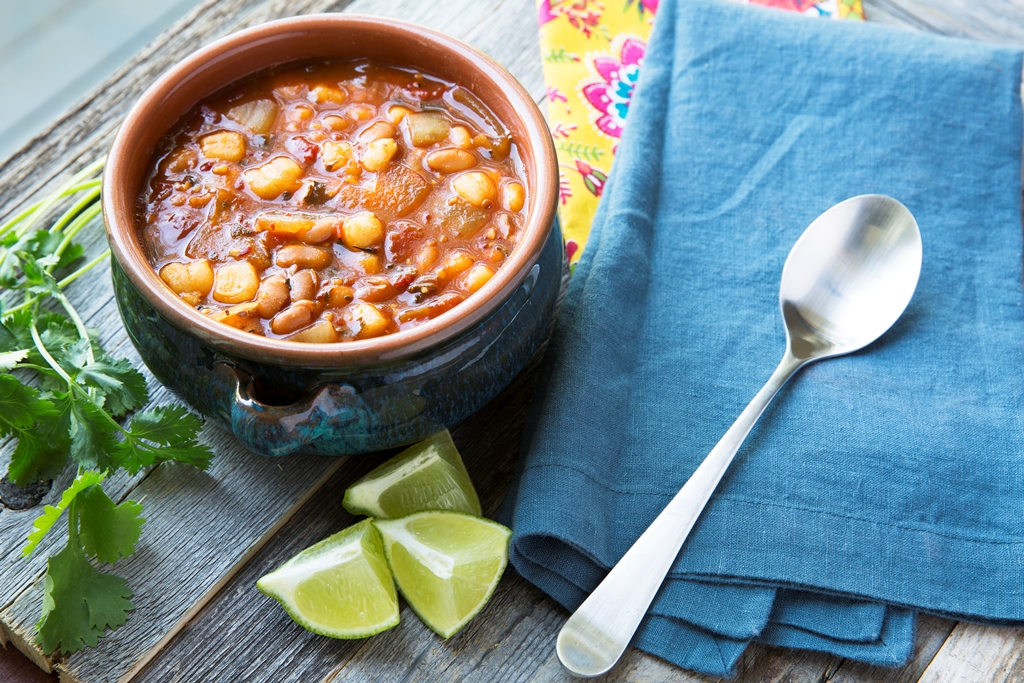 If you want a mild soup, I suggest you use 2 peppers. But if you want your soup to be spicy, use 4 peppers. You can even add the seeds if you want to make it extra-spicy.