For health-conscious people, green smoothies are a favorite. They are nutrient-rich blends of fruits and vegetables, and, therefore, have become a popular way for a lot of people to meet their recommended daily intake of vitamins and minerals. So instead of refreshing yourself with drinks that are loaded with sugar, having a healthy smoothie even for breakfast would be a good idea.
So what are green smoothies? They are similar to traditional fruit smoothies, but these ones contain more green vegetables, such as dandelion greens, lettuce, spinach, collard greens, parsley, and kale. Speaking of kale, that is the main ingredient of our drink recipe for today and it is very good for you. And to make it more delicious and creamier, we are going to add some bananas, mangoes, and avocados. With these ingredients alone, you can tell how healthy this smoothie is.
Before I present to you the simple recipe for Creamy Kale Smoothie, let us have a look at the health benefits of having a green smoothie on a regular basis. First off, green smoothies are rich in chlorophyll, and according to experts, this can help enhance the immune system. It can also purify the blood and rejuvenate the body. You can also expect this type of drink to help improve mental clarity and focus. It is very good for your digestive system as well. What's more? It helps in weight loss, improves mood, fights depression, and clears the skin.
Print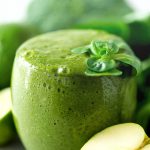 Creamy Kale Smoothie
---
Author:

Total Time:

10 minutes

Yield:

4

1

x
Description
This vibrant, creamy kale smoothie is an excellent morning pick-me-up. It is so awesome given the fact that kale is one of the healthiest greens you can ever consume. With bananas, avocados, and mangoes, you can expect this drink to quench your thirst all day long!
---
1/2 cup or 30 grams kale
1/2 medium mango
1/4 medium avocado
3 medium ripe bananas
1 cup ice
2 cups water
---
Instructions
Remove the stems from the kale and discard.
Add all of the mentioned ingredients in this order: kale, avocado, mango, banana, water, and ice.
Blend until smooth using a high-speed blender.
Pour into a glass and serve.
Notes
You can utilize Tuscan kale, dinosaur kale, black kale, or cavolo nero.
Got a Vitamix?  By far the best blenders on the market.  Get yours here.
This Creamy Kale Smoothie is super easy to make. As you can see, all you need to do is add all the ingredients to a blender and you are good to go. That should only take you 5 to 10 minutes, which makes it a great way to start your day. In fact, it is a healthy way. If you don't have much time to make a breakfast meal, this smoothie would be a great substitute. Or, you can also have it along with your favorite breakfast food items.
Aside from being a light breakfast item, this smoothie can be the perfect mid-day snack, too, as it is truly energizing.
The Secret to Making the Best Kale Smoothie
A good green smoothie should have balanced flavors. You need something green (kale), plus something naturally sweet and creamy (banana, mango, and avocado). You don't need sugar or any artificial sweetener, which makes this drink really healthy for you.