We are advised to drink 8 glasses or more of water every day. But even if we increase the number of cups and put on ice to make it colder during a hot summer day, we may still not be able to get rid of our thirst. This may entice us to drink some carbonated drinks against our will, with all the ill-effects that we learned. But if you have available cherries, a cherry limeade can get you off those unhealthy sodas.
This recipe is easy to make, so you can have your limeade in a short while. You don't have to fret about the prep time as it will only take you a couple of minutes. Once your limeade is ready, your patience will be rewarded with a refreshing drink. You will also be surely energized for your next activities for the day.
Print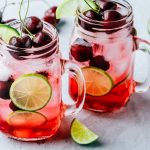 Cherry Limeade
---
Author:

Total Time:

15 minutes

Yield:

6

servings

1

x
Description
Cherries are readily available during the months of May to August. If you have them in your yard, you may not be able to eat all of them before they can rot as your fridge may not be able to contain them all. Using some of them in cakes can be an alternative that your whole family will surely enjoy. Another is to make cherry limeade every now and then, or…..EVERYDAY!
---
3 c. of pitted cherries, fresh or frozen
2 quartered limes, peel on and pith removed
6 c. of water
½ – ¾ c. of sugar honey or other preferred sweeteners
Ice
Cherries, for garnish
Lime slices, for garnish
---
Instructions
In the blender, combine cherries and lime. Add sugar, 2 cups of water, and ice if you want it extra cold. Blend until the mixture is pureed.
Strain the mixture and add the remaining water through the strainer.
You may put additional ice, garnish with cherries and lime slices, and serve.
Notes
Adding more cherries can make your limeade sweeter and taste more of cherry. If you like it more lemony, you can also add more lime. Putting ice is your option too. If you have some runny nose or persistent phlegm, you can skip adding more ice. You can also use other sweeteners if you are not a honey lover.
The taste of a cherry limeade appeals to everyone. So when preparing it, you can make more for your family to enjoy. If you have some excess, it means that you don't have to make another cherry limeade for your next drink later in the day. For sure, during a hot summer day, you will be drinking a lot of it to quench your thirst.
Cherries grow abundantly during summer and making some of them into cherry limeade will not only give you a fresh drink that is thirst-quenching, but also, you will be enjoying a lot of health benefits. Cherries are rich in vitamins and minerals that include calcium, vitamin A, and folic acid. They are also known for their abundant antioxidant properties. Make your cherry limeade now and feel refreshed and energized!