Looking for an excellent lunch recipe? Do you want something not so heavy? Well, this Creamed Spinach Casserole is one of the best dishes that you can enjoy all year round. It can be a side dish to your grilled steak or perhaps a roasted turkey breast.
This spinach casserole recipe utilizes a healthy amount of spinach. You can even add more if you wish to. You can never go wrong with spinach since it is one of the healthiest leafy vegetables that you can ever eat. It helps promote good bone health, aids in weight loss, keeps your body relaxed, reduces blood sugar, and many more. We can go on and on with the health benefits of this amazing vegetable. In fact, it is considered a superfood. It is loaded with vitamins and minerals. Since spinach is super low in calories, you can easily incorporate it into your daily diet.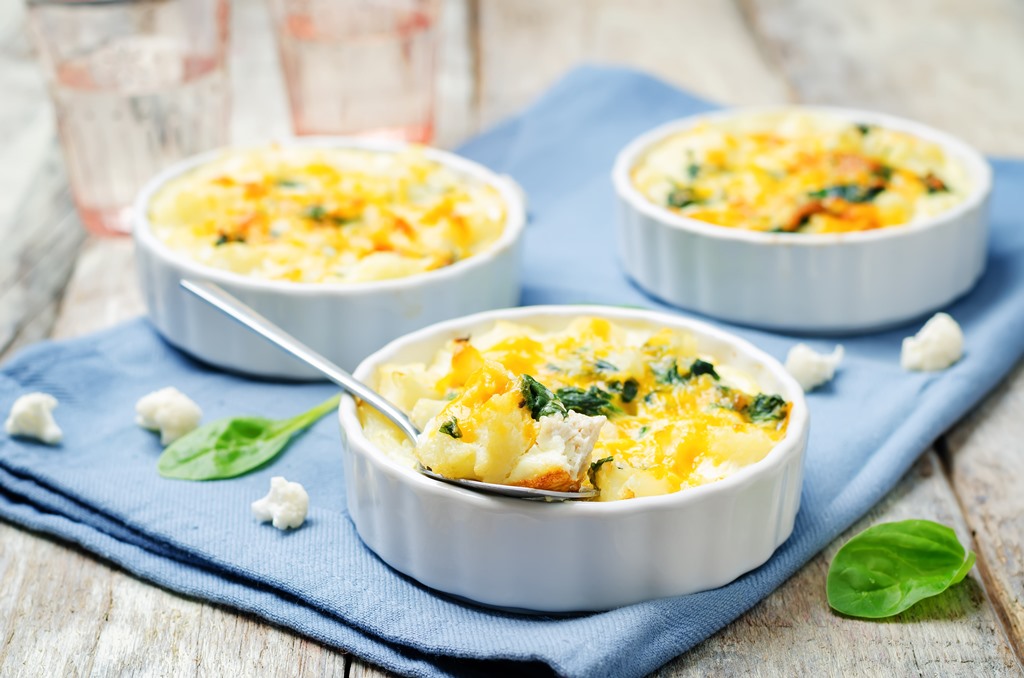 One good thing about this Creamed Spinach Casserole is that you are free to use fresh or frozen spinach. You can even turn it into a vegetarian lunch meal.
Print
Creamed Spinach Casserole
---
Author:

Total Time:

40 minutes

Yield:

8

servings

1

x
Description
This Creamed Spinach Casserole is a delicious side dish. It could even be your lunch if you want to keep your meal light. With the combination of condensed cream of mushroom soup, milk, cheddar cheese, sour cream, and butter, you can enjoy a creamy meal. And the spinach? Oh so healthy!
---
20 ounces frozen spinach (chopped)
1/2 can condensed cream of mushroom soup (not diluted)
1/4 c. milk
1 c. grated cheddar cheese
1/2 c. sour cream
2 tbsp. butter, melted (plus more for bread crumbs)
1/2 tsp. salt
1/4 tsp. pepper
1 cup buttered bread crumbs
---
Instructions
Preheat oven to 350 degrees Fahrenheit.
Start by cooking the spinach in the microwave, following the package instructions. Drain thoroughly.
Combine soup, cheese, milk, melted butter, sour cream, salt, and pepper in a medium saucepan over low heat. Stir until just warmed through and combined.
Add the spinach to the saucepan and mix well.
Grease a 1 1/2-quart baking dish and then pour the spinach mixture in.
Top with buttered bread crumbs.
Bake casserole for about 30 minutes.
Notes
When draining the spinach, squeeze them tightly in a dishtowel. This should help wring out all of the extra liquid more efficiently.
To butter the bread crumbs, simply add about 2 tablespoons of butter to a cup of bread crumbs and then stir to combine.
Prep Time:

10 minutes

Cook Time:

30 minutes
To prevent your casserole from being watery, make sure to squeeze out as much liquid as possible from your spinach. Like what we have said earlier, using a dishtowel would help a lot.
To make it easier for your cheese to melt and to have a smoother result, I highly recommend that you grate your cheese by hand. Avoid using pre-grated cheese as much as possible.
This Creamed Spinach Casserole can be made in advance. Simply assemble, cool to room temperature, cover, and then refrigerate. It should be good for about two days. Now, once you are ready to bake your casserole, cool it to room temperature (about 30 minutes on the counter) and then put it in the oven.