If you are a beginner, probably, you will skip baking a cheesecake. You must be thinking that you will bake this ever-popular cake when you have acquired more baking skills. This is because looking at older recipes, the long list of procedures and ingredients can be intimidating.
With this recipe, your mindset will be changed at once because this can be the most straightforward recipe to bake a blueberry cheesecake. But if you still don't know yet, making mistakes, like a sunken center, when baking cheesecakes with toppings can still be alright. To some, it is even better so they can put more fillings. What is important is the taste and texture.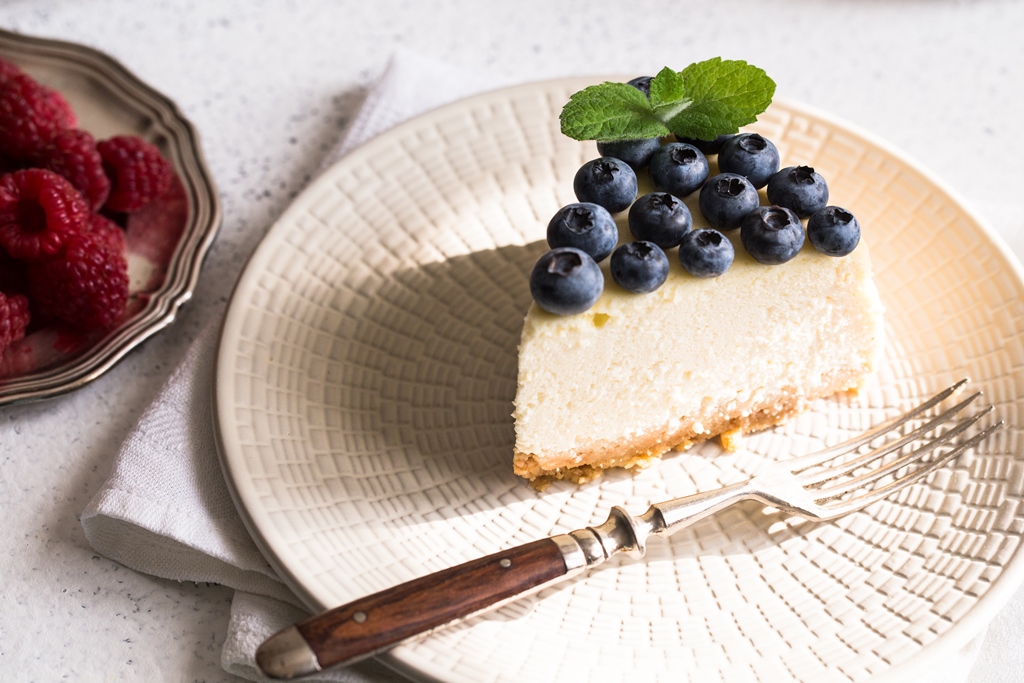 Print
Blueberry Cheesecake
---
Author:

Total Time:

1 hour 15 minutes + chilling time

Yield:

12

servings

1

x
Description
Blueberry cheesecakes have three important components: crust, filling, and topping. The crust provides a sweet and crunchy texture to the whole cake. The filling complements perfectly with the crust with its creamy and fluffy quality. The toppings of blueberries and melted jelly provide additional sweetness and fruity taste and, of course, the glistening visual appeal. Indeed, the simple sight of a blueberry cheesecake is enticing!
---
Crust:
1 c. of graham cracker crumbs
2 tbsp. of sugar, white
¼ c. of butter, melted
Filling:
2 packs (8 oz.) of cream cheese, softened
1 c. of sour cream
¾ c. of sugar, white
1 tsp. of vanilla extract
1 tbsp. of all-purpose flour
4 large eggs
Topping:
2 c. of blueberries, frozen, dry pack
1/3 c. of blueberry jelly
---
Instructions
In a bowl, combine graham crumbs, 2 tbsp. of white sugar, and butter. Place mixture into the bottom of a 9" springform pan and press using the back of a spoon.
Make cream cheese creamy by mashing it in a bowl. Gradually add sour cream, ¾ cup sugar, vanilla, and flour while mixing. Add one egg at a time.
Pour the mixture into the crumb-lined springform pan. Bake until firm or approximately 1 hour.
Let it cool before removing it from the pan by loosening the edges with the use of a thin knife.
Top with frozen blueberries. Spoon melted jelly and pour over blueberries to glaze.
Chill and serve.
Notes
If you do not have graham crumbs, you can use crushed graham biscuits. Place the biscuits in a zip lock bag and use a rolling pin. Making the filling is as straightforward as making the crust. You only have to mix all the ingredients.
You can also top your cheesecake with fresh blueberries.
Prep Time:

15 minutes

Cook Time:

1 hour
Don't commit the common mistake of beating the ingredients too much as it may result in an excessive rise in your cake. It may create a problem on how to put the toppings without sliding down, otherwise, you may have to scrape the top surface of the cake to level it before putting the topping.
With canned blueberries or imports from other countries, there is no lack of blueberries all-year-round. There is no need to wait until they are in season. This makes it possible to have blueberry cakes for desserts any time of the year. With cake and fruits in one chilled dessert, who would not go for a blueberry cake? You can even top it with other berries! 🙂