Introduction
Looking for a healthy and low-carb alternative to classic Asian fried rice? Look no further than our Cauliflower Fried Rice recipe! Made with nutrient-rich cauliflower rice and a variety of delicious veggies, this dish is a tasty and nutritious twist on a classic favorite.
Benefits of Cauliflower
Cauliflower is a highly nutritious vegetable that is rich in vitamins, minerals, and antioxidants. It is also low in carbs and calories, making it a great choice for those watching their waistlines. In this recipe, we use cauliflower rice as a healthy and delicious substitute for traditional rice, which can be high in carbs and calories.
Interesting Facts about the Food
Cauliflower is a member of the cruciferous vegetable family, which also includes broccoli, kale, and Brussels sprouts. It is believed to have originated in Asia and was first introduced to Europe in the 16th century.
How Healthy is the Meal
This Cauliflower Fried Rice is a healthy and nutritious alternative to traditional fried rice. It is low in carbs and calories, making it perfect for those watching their waistlines. It is also packed with fiber, vitamins, and minerals, which can help support overall health and wellbeing.
Possible Ingredient Substitutions
If you don't have all the ingredients listed, you can substitute them with other veggies you have on hand. For example, you can use frozen peas instead of fresh, or broccoli instead of green beans. You can also add other protein sources like shrimp or tofu.
Enjoy!
Print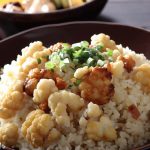 Cauliflower Fried Rice Recipe
---
Author:

Total Time:

30 minutes

Yield:

4

servings

1

x
Description
Try this delicious and healthy low-carb twist on a classic Asian dish with our Cauliflower Fried Rice recipe. Packed with nutrients and flavor, it's perfect for those looking for a healthy alternative to traditional fried rice.
---
head cauliflower, riced
2 tablespoons olive oil
1 onion, diced
3 cloves garlic, minced
1 cup green beans, trimmed and cut into small pieces
1 cup carrots, peeled and diced
1 cup peas, fresh or frozen
2 eggs, beaten
2 tablespoons soy sauce
1 tablespoon sesame oil
Salt and pepper to taste
---
Instructions
Begin by preparing the cauliflower rice. Cut the head of cauliflower into small florets and pulse them in a food processor until they are the size of rice grains.
Heat the olive oil in a large skillet over medium-high heat.
Add the diced onion and garlic and sauté until the onion is translucent and the garlic is fragrant.
Add the green beans and carrots and cook for 5-7 minutes, or until they are tender.
Add the cauliflower rice and peas to the skillet and stir well to combine.
Cook for 5-7 minutes, or until the cauliflower is tender.
Push the veggies to one side of the skillet and add the beaten eggs to the other side.
Scramble the eggs until they are fully cooked, and then mix them in with the veggies.
Drizzle the soy sauce and sesame oil over the cauliflower fried rice and stir well to combine.
Season with salt and pepper to taste.
Serve hot and enjoy!
Notes
When making cauliflower fried rice, there are a few things to be aware of:
Moisture content: Cauliflower has a high moisture content, which can make the fried rice mushy if not properly drained. Be sure to dry the cauliflower rice thoroughly before cooking.
Seasoning: Cauliflower rice has a mild flavor, so be sure to season it well with salt, pepper, and other spices to enhance the taste.
Texture: The texture of cauliflower rice is different from traditional rice, so don't expect it to have the same texture when cooked. It will be a bit more crumbly and softer.
Cooking time: Cauliflower rice cooks much faster than regular rice, so be careful not to overcook it. It only needs a few minutes in the pan to cook.
Add-ins: You can add a variety of vegetables and proteins to your cauliflower fried rice, but make sure to cut them into small pieces to match the size of the cauliflower rice.
Prep Time:

10 minutes

Cook Time:

20 minutes
Want to have a recipe published?  Simply go to our Contact Page, scroll down and fill out the submission form.  We look forward to reading about your favorite dishes!